Members of our team had the opportunity to present a new poster abstract at the 2023 NASP Annual Meeting & Expo, which was held from September 18-21, and at AMCP Nexus 2023 from October 16-19.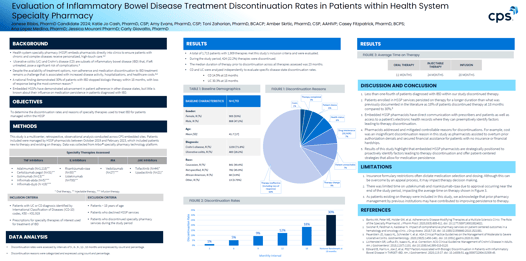 Background
Health system specialty pharmacy (HSSP) embeds pharmacists directly into clinics to ensure patients with chronic and complex diseases receive personalized, high-touch care.
Ulcerative colitis (UC) and Crohn's disease (CD) are subsets of inflammatory bowel disease (IBD) that, if left untreated, pose a significant risk of complications.
Despite the availability of treatment options, non-adherence and medication discontinuation to IBD treatment remains a challenge that is associated with increased disease activity, hospitalizations, and healthcare costs.
A national finding demonstrated that 30% of patients with IBD stopped biologic therapy within 18 months, with loss of response being the most common reason.
Embedded HSSPs have demonstrated advancement in patient adherence in other disease states, but little is known about their influence on medication persistence in patients diagnosed with IBD.
Objectives
To determine the discontinuation rates and reasons of specialty therapies used to treat IBD for patients managed within the HSSP.
Read about the team's findings by downloading the Outcomes Study below.
Download the abstract: