Members of our team had the opportunity to present a new poster abstract at the 2023 NASP Annual Meeting & Expo, which was held from September 18-21, and at AMCP Nexus 2023 from October 16-19.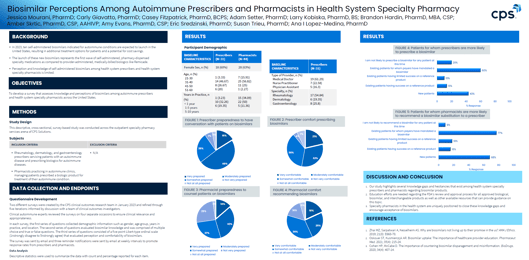 Background
In 2023, ten self-administered biosimilars indicated for autoimmune conditions are expected to launch in the United States, resulting in additional treatment options for patients and a potential for cost savings.
The launch of these new biosimilars represents the first wave of self-administered, pharmacy-dispensed specialty medications as compared to provider-administered, medically-billed biologics like Remicade.
Perception and knowledge of self-administered biosimilars among health system prescribers and health system specialty pharmacists is limited.
Objectives
To develop a survey that assesses knowledge and perceptions of biosimilars among autoimmune prescribers and health system specialty pharmacists across the United States.
Read about the team's findings by downloading the Outcomes Study below.
Download the abstract: