2023 Patient Impact Report
CPS and Trellis Rx clinical experts share the latest research, benchmarks, and best practices in measuring health system specialty pharmacy outcomes.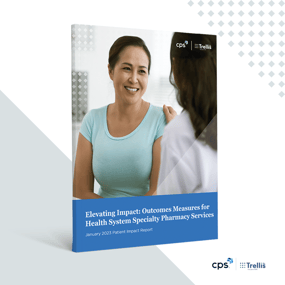 Introducing the 2023 edition of the "Patient Impact Report," a resource to help health systems elevate specialty pharmacy clinical performance.
Brought to you by our experts at Trellis Rx, now part of the CPS family, this year's report shares the latest clinical research, benchmarks, and best practices to help hospitals of all sizes elevate patient care and support growth.
What's inside?
See how leading HSSPs measure clinical performance.

Optimize HSSP performance with an expanded set of evidence-based clinical outcomes measures for common specialty disease states.

Read how to measure asthma outcomes and best practices for other common chronic conditions.

Demonstrate HSSP value and impact with insights, best practices, and standards from experts across the CPS family of companies, including specialty pharmacy leaders, clinical pharmacists, and former health system executives.