Members of our team had the opportunity to present a new poster abstract at the 2023 NASP Annual Meeting & Expo, which was held from September 18-21, and at AMCP Nexus 2023 from October 16-19.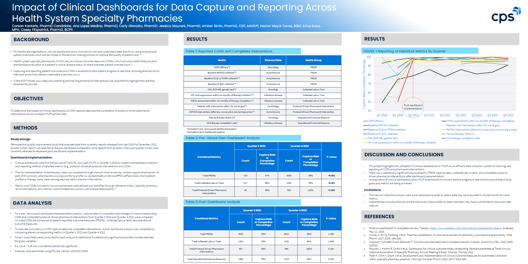 Background
For healthcare organizations, clinical dashboards allow clinicians to view and understand data trends on care processes and patient outcomes which can be utilized in the decision-making process to improve the quality of patient care.
Health system specialty pharmacies (HSSPs) rely on clinical outcome measures (COMs), which are instruments that provide a standardized evaluation of a patient's clinical disease status, to make informed patient care decisions.
Capturing and reporting patient outcomes and COMs is essential to track patient progress in real time, allowing pharmacists to intervene proactively before undesirable outcomes occur.
In the HSSP model, accurately documenting and tracking pharmacist interventions are important to highlight the care that pharmacists provide.
Objectives
To determine the impact of clinical dashboards on COM capture rates and the completion of protocol-driven pharmacist interventions across multiple HSSP partner sites.
Read about the team's findings by downloading the Outcomes Study below.
Download the abstract: